Pump!T : brilliant seesaw !
12/05/2017
The ingenuity of bright students and teachers of Asty-Moulin centre, has payed attention of Helping Hand Bangladesh Belgium association's representatives. That enabled to the project "Makers in Tech School" Pump!T to see the light !
 
At the origin of Pump!T project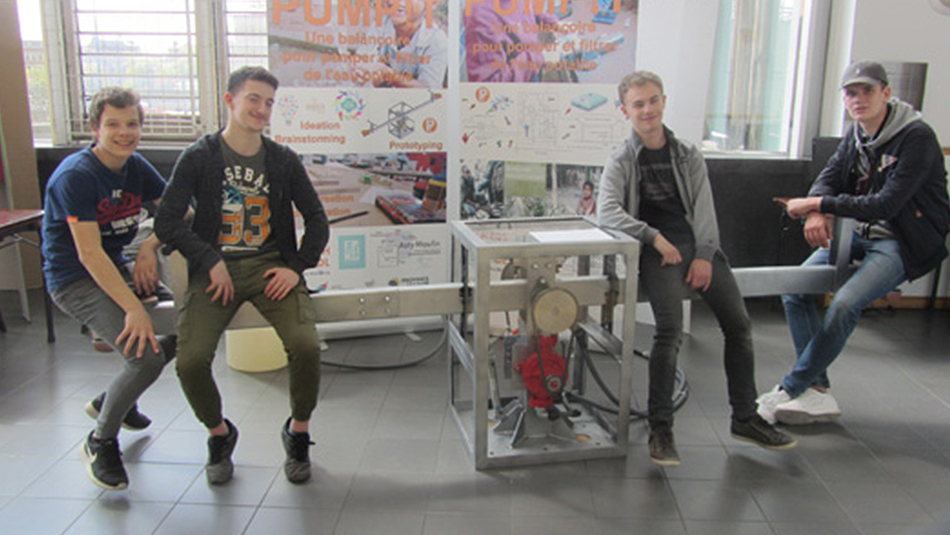 All begins by a contest of ideas organised in a primary school of Bouge, Sainte-Marguerite School, as part of Tech Makers in Tech School - Pump!T project. That pilot project, developed in Namur by the Walloon Region, is part of the program Creative Wallonia which aims to stimulate innovative and entrepreneurial spirit among the youngest.
The aim of that contest was, therefore, to find an idea enable to make the « world better » ! The young prodigies hastened to propose various innovative ideas, including to design a machine capable of supplying drink water.
Then, 12 students, coming from technical and professional courses of Saint-Servais Secondary School in Namur, were invited to discover the world of creative economy as part of the Creative Wallonia operation. They were enable to collect various tracks from the previous contest of ideas.
After studying of many proposals made by their young comrades of Sainte-Marguerite, those 12 students from Asty-Moulin centre were particularly interested by the conception of a seesaw.
The idea which is formed, is to couple a pump to a filter capable of stabilizing ground water in order to supply a drinking water reservoir in countries where the access is difficult. A part of the water unfiltered could also be used for other purposes such as sanitation for example.
Fate has made that this innovative idea is carried with knowledge's representatives of Helping Hand Bangladesh Belgium Association, an organization dedicated to socio-economical development of Bangladesh.
Bangladesh, the ideal mission for the Pump!T seesaw
In that very humid developing country, water is plentiful but quality water supply remains rare. And with good reason, surface water (rivers and streams) being infected by microbes and all types of bacteria, consumption becomes impossible. As for the drilling water, taken directly in accessible ground waters, it is indeed less inappropriate but contains a rate of harmful arsenic for health because it leads to a long-term serious poisoning.
The recurrent issue in this developing country is the access to drinking water and in good quality. In this country where water is either poisoned by arsenic or infected by bacteria and all types of virus, the access to the drinking water quickly becomes a crucial stake.
It is in the hope of solving this issue to access good quality water in rural zones of Bangladesh where the idea of these Naurois young people arrived at a good timing and at least in a surprising way.
 
Pump!T : How this brilliant seesaw works ?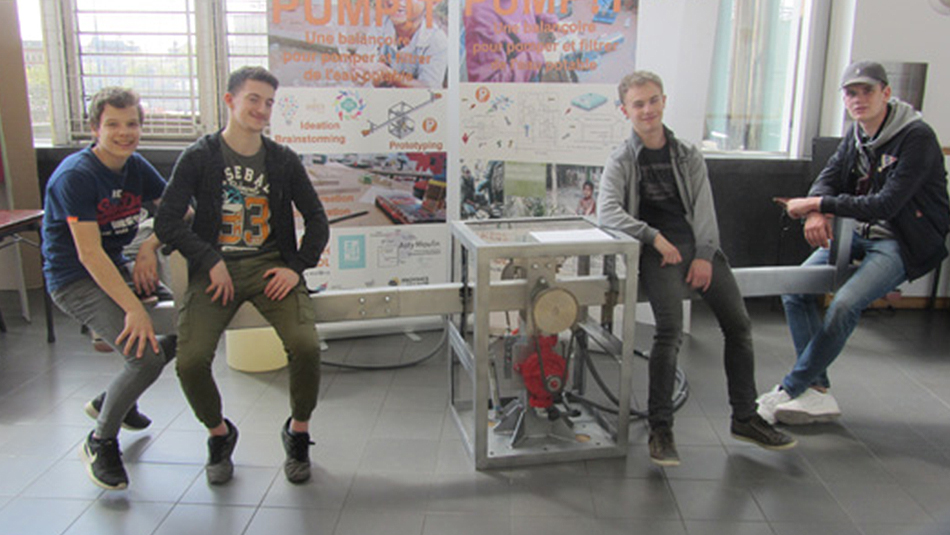 The idea is simple, it consists of coupling a pump casted to a filter capable of cleaning surface water to supply a reservoir of drinking water.
In order to make it, the system pumps some impure water from surface with the help of two semi-rotary volumetric pumps which operate through a seesaw. After a first filtering, the water circulates under pressure in a module of ultra-filtering (developed in Belgium) due to expansion vases and valves.
The filtered and drinking water will be then stocked on a reservoir of flexible cover. Finally, a third pump - manual this one - will be used to assure the cleaning of ultra-filtering module with regular intervals.
To take advantage of a reservoir from one cubic meter of pure blue gold, it will need about one hour of game and movement comings and goings, or of swings.
The realisation of this seesaw does not require any technical difficulties. Thanks to the support of their project's supervisor Guy Brunin, director Pascal Charlier and Pompes Japy, this group of 12 students make almost everything : design, modeling, prototype, technical realization, installation, but also, communication, external relations and fundraising. The different prototypes successively realised, are validated by professionals such as Pompes Japy.
In order to carry out this large-scale project, two groups has been formed to assure a better distribution of tasks. The younger ones take care of technical achievements while the bigger ones make sure to do the rest.
 
The Pump!T project : a guaranteed success
This ingenious seesaw was assembled at the end of March then presented at the end of April at the Expo'Osons event. It is a major exhibition of science pojects presented by students and organised by Ose la Science, a meeting dedicated to promote science to young people.
For its very first public presentation, Pump!T has brought a bodywork adapted in perspex in order to expose without a big danger the mechanism of the pump in operation.
For the rest of the adventure, the students and teachers of Asty-Moulin centre as well as the representatives of the Helping hand Bangladesh Belgium association will go in July to Bangladesh and precisely in the Barisal region to install their Pump!T seesaw in a school.
 
The Pump!T experience, what students have learned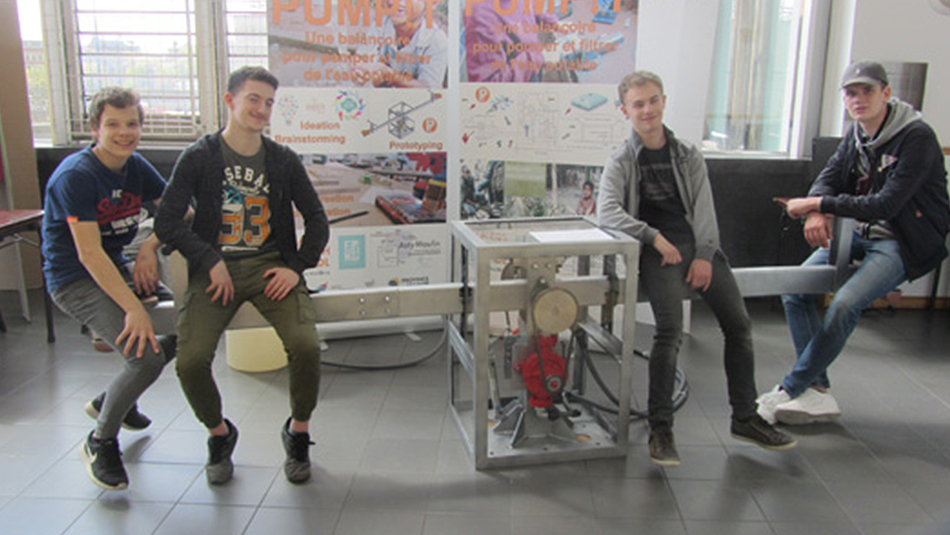 In the end, this group of creative young people will come out from this unique human and professional experience.
Beyond the creation of an innovative concept and of precious acquired technical competencies, they contribute to a better world by making easier the life of an entire village !
A true technical prowess which, let hope for it, will serve of model to a potential selling.